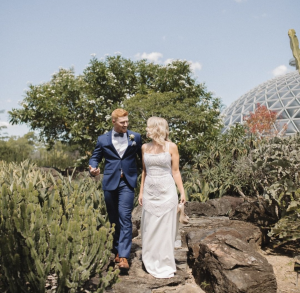 Were you planning on getting married but your plans have changed due to the current coronavirus restrictions?  Or do you just want a romantic, yet easy option of an elopement with your partner? As an alternative to the Brisbane Registry Office, I can help you get married in the comfort of your own home, in a local park or in my garden.   I am here to help you do that!
In Queensland there are currently restrictions on wedding ceremonies and as of 9 April 2020, you can still get married, yay!
Current Covid-19 Restrictions
The restrictions we do have to follow are
Maximum of 5 people – this includes your celebrant, the couple and two witnesses. Many couples are choosing to have a photographer as one of their witnesses so they can capture some gorgeous photos and you can share them with your family and friends. Another idea for a witness could be a videographer, and they could live stream your wedding to your family and friends.
Social distancing and the 4 square metre rule still needs to occur at your wedding, so no hugs, kisses or high-fives unfortunately, except between the happy couple of course.
And I'll bring the hand sanitiser too!
And why not wear your wedding outfits on the day to make it even more special.  You can even have your dog with you too!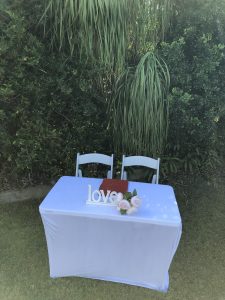 Elopement Packages during Covid-19
$1650
I also offer an amazing elopement package which includes
Your celebrant and all the legal paperwork required
A fabulous photographer, Kate, from Twig and Fawn Photography.  You will receive 2 x hours of photography with a minimum of 100 digital photos.  (Kate would need be one of your witnesses so we follow the current rules).
A beautiful bouquet and buttonhole with your choice of six colour palettes from My Little Flower Shoppe
A choice of city garden locations or your own backyard
Otherwise, let's chat about your options for when these restrictions are lifted and we can get back to our normal lives and celebrate with our family and friends all in the one place!
I'm just an email, phone call, Instagram or Facebook message away to help answer any questions you might have, so feel free to get in touch.
Natasha x
Thanks to the the wonderful photographer Kate from Twig and Fawn Photography for the photos of these gorgeous couples.