Earlier in the year, I was invited to perform a commitment ceremony for Bec and Sarah.  I have known Bec for many years and I was thrilled to be part of their wedding day.  Even though we couldn't have a legal wedding, that didn't stop Bec and Sarah from marrying each other.  They were fortunate to be able to have a legal ceremony at the British Consulate in Sydney the day before their commitment ceremony, and celebrated with their immediate family afterwards along the Sydney Harbour!
Their wedding ceremony and reception was held at the beautifully renovated The Blue Room Bondi overlooking the iconic Bondi Beach.  Bec and Sarah arrived in style in a fully restored VW Kombi.  The stunning flowers for the bridal party, ceremony and reception were designed by Pam.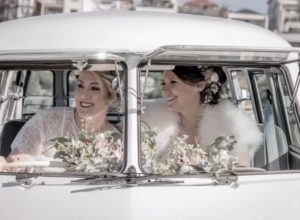 We celebrated their love on The Blue Room's fabulous back deck in front of their family and friends followed by a sit down reception inside with incredible views of the beach.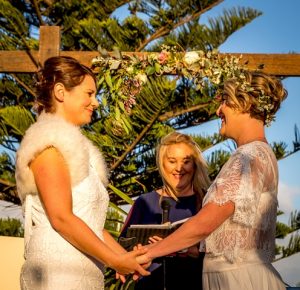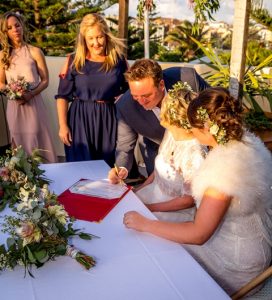 Congratulations Bec and Sarah and it's fabulous now to know that your marriage is now recognised here in Australia too!
As a same sex marriage celebrant, I am also looking forward to officiating many more same sex wedding ceremonies in the years to come.  Click here for more information about packages available.